A lot has been said about the Volk­swa­gen emis­sions scan­dal over the past sev­eral days. It has the media abuzz and the online com­mu­nity agog, but have you really given a moment's thought to what there really is to stress about?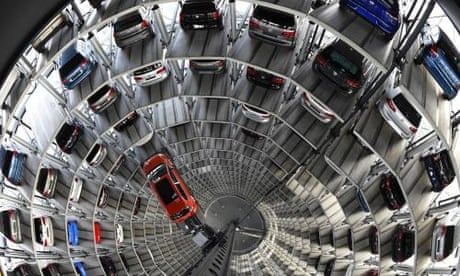 The short ver­sion is that VW, in cahoots with Robert Bosch, the sup­pli­ers of the elec­tron­ics in ques­tion, designed a soft­ware mech­a­nism into the sys­tem that would alter the given nitro­gen oxide out­put, when the vehi­cle under­went emis­sions testing.
The upside of this is that the con­sumer received a vehi­cle with per­for­mance sub­ject to lesser throt­tling than what would have been needed for the prod­uct to pass the arguably cur­rently real­is­tic reg­u­la­tions — finances and tech­nol­ogy avail­abil­ity con­sid­ered — set by the many reg­u­la­tions in place across the globe. The down­side, nat­u­rally, is that all con­cerned, were lied to; and that your diesel-powered VW *may* now lose some value. Con­sid­er­ing the fact that their diesel prod­ucts are proven and loved, this is unlikely, beyond, per­haps, a suc­cint period of community-fronted goodwill.
You may elect to have your car 'repaired', in line with the upcom­ing recall, but how many peo­ple do you know who would vol­un­tar­ily offer up their car for a per­for­mance down­grade and an increase in fuel con­sump­tion? Not many, I expect.
You may claim to be a child of Mother Nature, intent on hug­ging every tree that you pass, but unless you pur­chased a Blue­Mo­tion VW, you're only fool­ing your­self and BSing us. You bought a diesel for one, or more, of the rea­sons that most do; the torque, longevity & far supe­rior fuel consumption.
Con­sid­er­ing that the scan­dal broke in the USA, let's take a look at some facts, to put things into perspective…
The L. A. Times report that approx­i­mately 482,000 cars are involved in the scan­dal, across the expanse of the United States. In con­trast, cancer.org state that some­where in the region of 42 mil­lion Amer­i­cans smoke. That's about a fifth of the Amer­i­can population.
Nitro­gen oxides, the gas at the cen­tre of this deba­cle, are pro­duced in great quan­ti­ties by both petrol & diesel engines. If you hap­pen to live near to a gas pow­er­plant, or an area prone to heavy light­ning strikes, you're rich in the sup­ply of NOx too. Lucky you.
Nitro­gen diox­ide is an irri­tant gas, which at high con­cen­tra­tions causes inflam­ma­tion of the airways.
Sounds trou­bling, but con­sider this, in contrast…
There are approx­i­mately 600 ingre­di­ents in cig­a­rettes. When burned, they cre­ate more than 7,000 chem­i­cals. At least 69 of these chem­i­cals are known to cause can­cer, and many are poisonous.

Many of these chem­i­cals are also found in con­sumer prod­ucts, but these prod­ucts have warn­ing labels. While the pub­lic is warned about the dan­ger of the poi­sons in these prod­ucts, there is no such warn­ing for the tox­ins in tobacco smoke.

Here are a few of the chem­i­cals in tobacco smoke, and other places they are found:

Ace­tone – found in nail pol­ish remover
Acetic Acid –  an ingre­di­ent in hair dye
Ammo­nia – a com­mon house­hold cleaner
Arsenic – used in rat poi­son
Ben­zene – found in rub­ber cement
Butane – used in lighter fluid
Cad­mium – active com­po­nent in bat­tery acid
Car­bon Monox­ide – released in car exhaust fumes
Formalde­hyde – embalm­ing fluid
Hexa­m­ine – found in bar­be­cue lighter fluid
Lead – used in bat­ter­ies
Naph­tha­lene – an ingre­di­ent in moth balls
Methanol – a main com­po­nent in rocket fuel
Nico­tine – used as insec­ti­cide
Tar – mate­r­ial for paving roads
Toluene — used to man­u­fac­ture paint
Mmmm, that sounds healthy for you.
The odds that you smoke, know some­one who does and spend at least some time within prox­im­ity to some­one who does, are pretty good.
Unless you're the recip­i­ent of a Prozac pre­scrip­tion, you're unlikely to suck on an exhaust pipe, but most would spend time in a smoke-filled enter­tain­ment venue, social set­ting or prob­ing the ton­sils of their ashy-mouthed sig­nif­i­cant other.
…makes you think, eh?
The evi­dence against the case for harsh crit­i­cism of vehic­u­lar emis­sions dimin­ishes even fur­ther when we take a look at the big­ger pic­ture, so to speak; the other major com­po­nents of inter­nal com­bus­tion output…
If you're, as Nature intended, an omni­vore, you're even more harm­ful to the envi­ron­ment. Your rumi­nant food is fart­ing; and it's killing us, slowly but surely. The aver­age car will emit 2.7 tons of methane per year. In stark con­trast, the aver­age cow flat­u­lates 4 tons.
The inter­nal com­bus­tion engine is a rather effi­cient pro­ducer of car­bon monox­ide; a byprod­uct of numer­ous ther­mal processes, the major cul­prit of which takes place in the troposphere.
The nat­ural sources of car­bon monox­ide pre­dom­i­nate (90% of total emis­sions); the remain­ing 10% are made up of motor-vehicle emis­sions (55%), indus­try (11%) and other emit­ters (HORN, 1989).

—IISC
Car­bon monox­ide is rapidly oxi­dised, to form car­bon diox­ide, which is used for photosynthesis.
You could fol­low the blind Gree­nies, blindly; sell­ing your diesel VW, in lieu of replac­ing it with some­thing else, that has passed the tests, whether legally or not, or, you could carry on as-is, obliv­i­ous to the polit­i­cal ram­blings and selec­tively bul­leted news.
With ever more strin­gent reg­u­la­tions fac­ing man­u­fac­tur­ers, it's highly unlikely that the Volk­swa­gen group, as a whole, are the only cul­prits of such engi­neer­ing. Only time shall tell. Given the past leniency seen with Amer­i­can man­u­fac­tur­ers dodg­ing known issues, the sever­ity of the fine issued to VW will be telling.
What is cer­tainly true, is that main­tain­ing your old clunker, despite its fuel con­sump­tion, is undoubt­edly more environmentally-friendly than any vehi­cle on the deal­ers' floors at present. The cost of get­ting a new car to mar­ket, in terms of the envi­ron­ment, ver­sus any fuel sav­ing your new vehi­cle, petrol, diesel, elec­tric, hybrid, hydro­gen or oth­er­wise, may offer, will only amor­tise over many more years — likely decades later — than cur­rent vehi­cles are designed to last for.
Hype, opin­ion or fact, per­spec­tive is what brings rea­son­able under­stand­ing to the facts.